No matter how winding paths life has taken me, I have always found my way back to creative creation and especially the textile.
Even before I trained as a clothing technician, I loved creating new creations from the old. To then bargain second hand in Västerbro in Copenhagen or exciting street and punk & rock on King's Road in London.
I was not late to say yes to various designs, stylists and sewing assignments, when artist agents got in touch. And the wedding hysteria really broke through where the motto "more-is-more" applied.
Most creative, however, was to get larger assignments for various theaters and music scenes. I believe that my playful side in patterns, colors and shapes flourished to the fullest and definitely lives on in my design today.
I am happy to design according to your wishes and preferably also from recycled material. You may have clothes or home textiles that have a personal value for you and that get a new life as a garment to the delight of someone else.
A baby romper of your worn old favorite t-shirt? A cute baby dress by your grandmother's hand-embroidered coffee-stained tablecloth? The worn jeans become nice patchwork pillows on the sofa or why not change the armchair? Who can guess that your super cool wedding dress is really your parents' old crocheted bedspread? As I said, the possibilities are endless.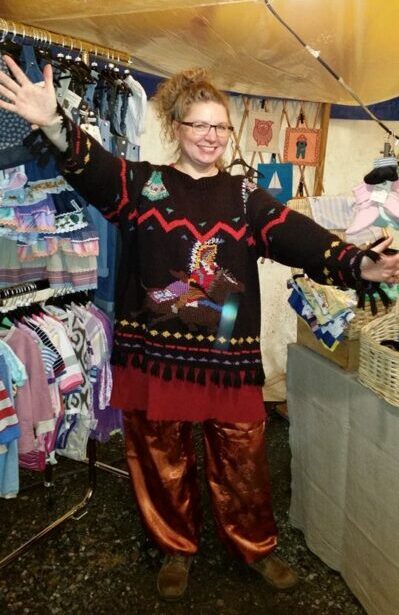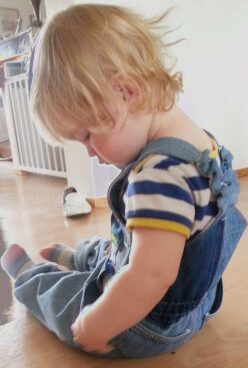 It is environmentally damaging to produce clothes and home textiles. There are not infinite resources in the world for making clothes.
Every year we throw away more than half of the amount of clothes/ textiles we buy. Very few repair, change or have the clothes re-sewn.
About 60% of the amount that the charities collect for their second-hand sorting is in fully salable condition.
BUT the remaining 40% of clothes and textiles that do not get a second chance, those that have holes, stains, are sun-bleached, are plump or just worn, what happens to them?
This is where my company makes an effort. I recycle clothes / home textiles for my own design and production of baby/children's/women's and men's clothing, as well as practical home textiles.
It is not that I have reinvented the wheel, I have just picked up the needle and continued as women have done for centuries.
See below my material consumption.
Recycled sewing accessories and textiles per finished product

Sewing accessories that are newly produced from recycled material and / or organic

Genuine leather, fur and feather / down.
Here's how to order from my Swedish web shop.
Do you want to order from abroad. Use this translation link. If you have any questions, you are of course welcome to send them via Contact Me and I will help you with ordering- and payment- questions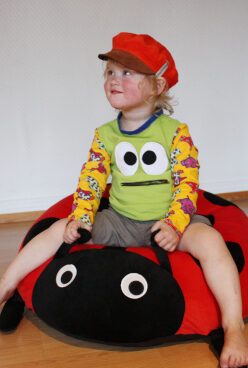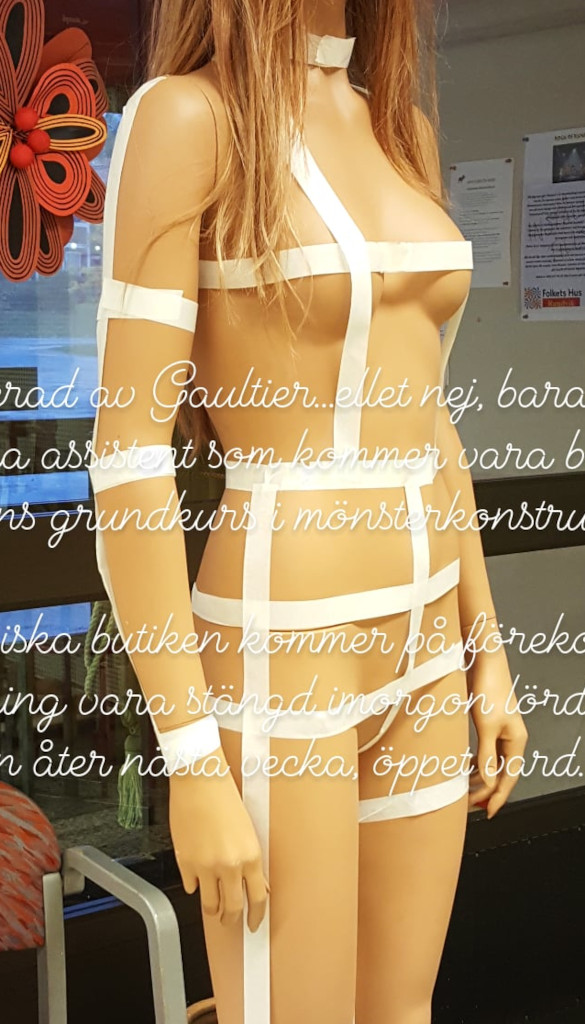 Find the right size. Do you want to order a larger size or are you unsure? Contact me.
WOMEN
Size Sverige
30-32
XS
34-36
S
38-40
M
42-44
L
46-48
XL
50-52
XXL
54-56
3XL
WOMEN
Size
England
4-6
XS
8-10
S
12-14
M
16-18
L
20-22
XL
24-26
XXL
28-30
3XL
MENs
Size Sverige
40-42
XS
44-46
S
48-50
M
52-54
L
56-58
XL
60-62
XXL
64-66
3XL
MENs
Size
England
30-32
XS
34-36
S
38-40
M
42-44
L
46-48
XL
50-52
XXL
54-56
3XL
I have four different Re-design themes. Alex&Dåda representing clothes and other things for babies & children. MaraVi are clothes for adults, or men and women as we also call them. Functional textile interiors or just practical home textiles perhaps, RiaVi. And Mara Medieval, for the lairs, the nerds or maybe for those who long for another time.